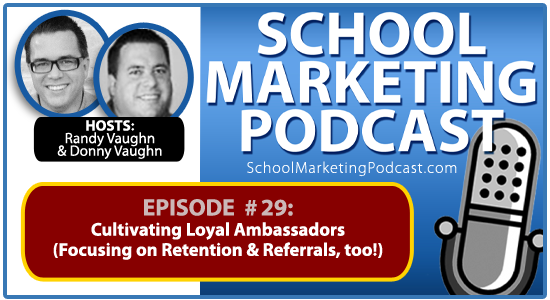 Coming on the heels of Episode #28 where we discussed the definition of school marketing, now we talk about a term "loyal ambassadors."  In previous episodes, we talked a little more in depth about what it means to be a "loyal ambassador" (see the SHOWNOTES below for the links to those shows).  When you think about what you are doing in school marketing, only pushing "enrollment" is short-sighted.  You need to recruit new students, but also focus on retention (loyalty) and referrals (ambassadors and word of mouth). Making this episode even more interesting, we also talk about Taco Bell, Amy Grant, Quebec City and Randy's upcoming speaking engagement at the National Christian School Association Annual Conference in Nashville.
RELATED: Download our free report on "The 3's of School Marketing"
SHOWNOTES:
See below or click here for more PODCAST episodes.
Suggest a TOPIC or GUEST for the school marketing podcast.
If you have a question or comment about this episode or any of our school marketing podcast shows, leave us a VOICEMAIL.
Review our podcast in iTunes – your positive feedback tells other school marketing, admission and communication professionals that this is worth their time (remember, most podcast episodes are only 14 min and 29 seconds long!)
TWITTER USERS:  tell all your followers about this podcast! (click to tweet)
Episode #8 (Part 1 of Creating Loyal Ambassadors) – Episode #9 (Part 2 of Creating Loyal Ambassadors) (you won't see the actual numbers in iTunes because we didn't start numbering our episodes until later).
Listen to John 3:16 in the Aja-gbe language (Randy is fluent in this African language after spending 10 years in West Africa as a church planting and leadership training missionary)
2 Corinthians 5:20 – read this amazing verse in multiple versions of the Bible – be an ambassador for Christ!
Buffer