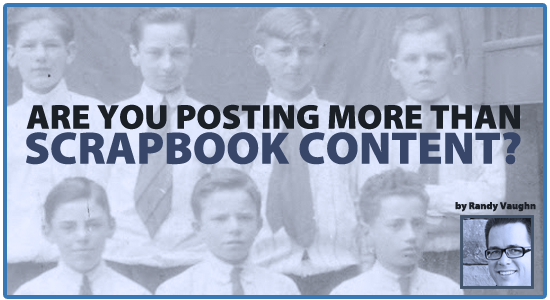 The sin of social media is self-promotion.
Just because social media is "free" (and it's increasingly costing more to participate), it does not mean it is a venue for "free advertising"!  And worse, it does not mean it is a venue for incessant self-promotion.  In reality, you have to understand this mantra when it comes to social media:
"It's not about US, it's about THEM."
When all of your social media postings are about your school, this is what I consider as "scrapbook" content. It is not evil, but it requires an important question be asked.
Who's the audience?
Scrapbooks are typically a lot more interesting and compelling for those who have experienced something (a summer camp, a vacation, etc.) If you gather your friends who experienced this with you and shared your scrapbook with them, you could sit for hours and reminisce about all the wonderful memories. Everyone would already recall the specific people involved (i.e., those funny camp counselors or that hiking guide who seemed to always get his facts wrong!) You would find yourself pouring over that scrapbook for a long time, oo-in and ah-ing over every visual reminder of the experience!
Now try and gather 5 friends who did not experience what you did. This is common on mission trips to far-away places (I was a missionary for 10 years, so I got this feeling a lot). You get out the scrapbook and start to share detailed accounts of every photo and feeling that same enthusiasm — except that your realize your audience of 5 is less engaged. Sure, they start out interested, but eventually, they cannot make the connection because they do not have the emotional attachment that you do. In a matter of minutes, you find yourself flipping hurriedly through the stack of photos only to hear them say at the end, "Wow, that was neat. Now, where do you want to go to lunch?"
When your school exclusively posts "scrapbook" content on your Facebook page (or other social platform), you will showcase some interesting things about your school, but it is unlikely that your content will resonate with your prospective families.
Here are 5 sins of social media scrapbooking: