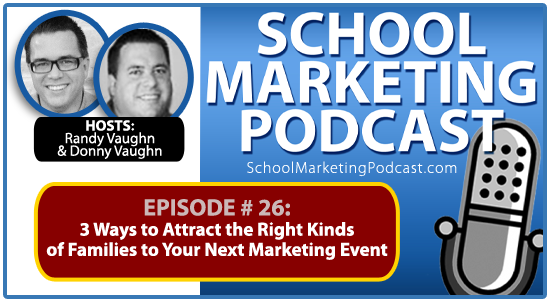 Christian schools are readying themselves, not necessarily for the holidays (although I hope you will get a much-needed break).  It is full marketing season over the next few months.  Schools are preparing for the next on-campus marketing/admissions event:
Open house
Admission events
Preview night
Coffee & conversation
Campus visit
Personal tour
Analyze your marketing goals for 2014 and look are targeting your marketing better.  Segment your content based on your marketing goal.  Produce high quality content that resonates with the needs, problems, pains, frustrations and fears of your prospective families.  This will capture their attention, and as they offer their email address in exchange for your great content, your email database will grow!
In this episode, we look at the 3 most important ways you can attract the right kinds of families to your campus event.

SHOWNOTES:
Review the strategy/implementation of "Content Marketing" in the 2-part series of episodes #24 and #25
See below or click here for more PODCAST episodes.
Suggest a TOPIC or GUEST for the school marketing podcast.
If you have a question or comment about this episode or any of our school marketing podcast shows, leave us a VOICEMAIL.
Review our podcast in iTunes – your positive feedback tells other school marketing, admission and communication professionals that this is worth their time (remember, most podcast episodes are only 14 min and 29 seconds long!)
Written
Blog posts
Articles
Guest posts by internal and external contributors
Guest posts on community blogs by members of your staff – Patch.com
Ebooks/reports (downloadable PDF – have you seen our library of reports at the bottom of our site?
Audio
podcasts
recorded interviews (telephone/radio)
Visual
Buffer