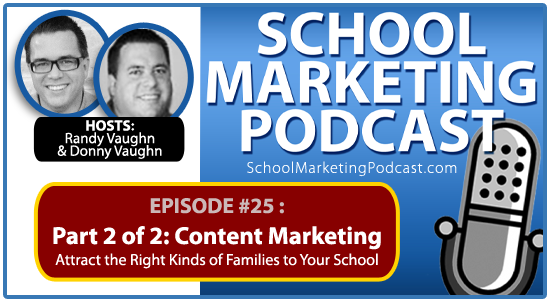 In Part 1 of this series on content marketing, we argued that schools should stop the interruptive approach to marketing that is so self-promoting! Your audience is likely ignoring your traditional marketing pieces. With highly targeted, high value content, you publish content that addresses your audience's need, problem, pain, frustration or fear.  This is a great way to grow your opt-in list as well as build trust.
In Part 2 of this 2-part series, we talk about:
Review: What is content marketing?
Review: Why do we need to be using content marketing?
Review: What are the 3 most popular types of content?
What tools to use to create content?
Collaborating with your team to create content
Using a calendar ensures your content is created when you need to use it
How targeted, high-value content will help you grow your email list!
SHOWNOTES:
See below or click here for more PODCAST episodes.
Suggest a TOPIC or GUEST for the school marketing podcast.
If you have a question or comment about this episode or any of our school marketing podcast shows, leave us a VOICEMAIL.
Review our podcast in iTunes – your positive feedback tells other school marketing, admission and communication professionals that this is worth their time (remember, most podcast episodes are only 14 min and 29 seconds long!)
TOOLS MENTIONED IN EPISODE #25
PUBLISHING:
If you want a dynamic website, make sure you create (or contract with a designer who will create) with WordPress.org (self-hosted site; I would not recommend WordPress.com which is a free version, but very limited)
In terms of hosting, we recommend HostGator
Ebooks – we use Word (PC) or InDesign (Mac) – then convert it to a PDF
AUDIO:
VIDEO:
Skype video
Google Hangout
Smartphone video
Webcam
Webinar service like Go To Webinar
GRAPHICS:
iStockPhoto (photos, vector illustrations, sounds, too)
PREVIOUS/RELATED PODCAST EPISODES:
Episode #22 – Grow your email list
Episode #24 – Part 1 – Content Marketing #1 of 2
Having trouble with the player?
Click here to listen to this episode.
Buffer