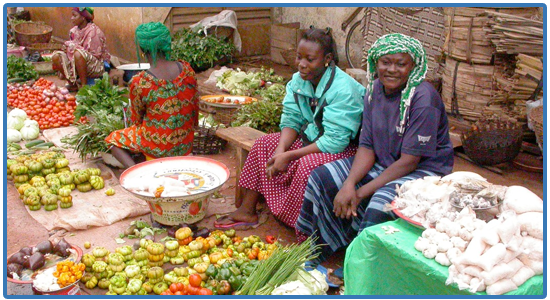 "Better" is never a differentiator.  If you think you have a "better" school because you "teach better" or provide "better classroom experiences" or "better prepare your student for college" – well, I'm suggesting you are wasting your breath.
Recently on a Fort Worth radio station, a radio spot for a car dealership suggest this same thing as why people should buy their cars from him:  "we're simply better."  Again, thousands of dollars wasted on a very subjective term.
Many of you know that I not only travel regularly to Africa, I also lived in West Africa for almost 10 years as a church planting and leadership training missionary (more on my story).   As you can see from the image in this post, one of my favorite things to do was to visit the local market and greet the many vendors.  I loved the camaraderie among sellers, side-by-side sharing stories as buyers came to purchase anything from fresh vegetables, fish, or even voodoo sacrifices needed to appease their many gods.  As a believer in community, I recognize quickly that these ladies selling tomatoes were not out to compete with one another in a cut-throat environment nor was any lady undercutting her neighbor's price by 5 cents.  It was about a communal buying experience and the conversations were as much a part of the purchase as were the goods themselves.  But it always struck me:  how does anyone know which vendor to buy the tomatoes from when they all look the same?
In a competitive private school market (not to mention competing with public/government schools and homeschools), how you differentiate is hugely important.  If you sell your "strong academic environment" – I'm bored.  If you are a Christian school marketing your "safe environment to grow spiritually" – I say, "that's what the other Christian school says, too."  If you say you are a "preparing students for life" – I say, "how?"  But in much of the traditional marketing that schools do, there are common mistakes that are being made:
PRINT ADVERTISING:  remember that in magazine ads, you have to think about your end-product ad when designing it.  If you get our graphic designer to send you a proof without other competing ads around it, you are not seeing the ad in a real context.  Put the ad on the same size as the magazine page is and surround it with ads about the local mechanic, church, beauty salon or childcare provider.  See if your ad stands out on the page.  And when you are called by a rep from a local publication saying "we want you to advertise in the private school preview issue of our magazine," I suggest rethinking your budget allocation.  In a situation like this, it is unfair to put yourself along side a dozen other competitors in order to stand out from the crowd – it is too difficult to differentiate.  Unless you are going to provide a radically different type of ad, stop doing it!  Or unless you have exact metrics to validate spending thousands of dollars each year, don't do it any longer.
BOOTH/FAIRS:  each year, private schools invest hundreds of dollars and time in setting up booths at various community events and private school expos.  These can be ideal venues to communicate directly to your target audience.  However, there are challenges.  Like mentioned above, it is not uncommon for there to be dozens of copycat schools with a folding table and a booth display set up literally inches from other competitors.  While parents and students maze through the aisles or corridors, everyone takes a brochure or watches a video while you desparetly try to engage in conversation at some deeper level.  If you are at a private school expo alongside other schools, be different and make sure you are capturing an email address or Facebook "like" before they leave your booth.  These events provide a great opportunity to be in front of hundreds of families, but make sure you have the follow-up mechanism in place. 

ACTION

:  read Ann Miller's provocative piece on the AISAP website, "Are School Fairs Fair?"
DIRECT MAIL:  yes, our mailboxes are still filled with junkmail galore!  So why put your school in that same stack of paper headed to the trashcan.  Again, as mentioned above, if you have the metrics to validate the expense (i.e., you can tangibly show x # of paying families who came to you as a result of a postcard campaign), then either be creative or don't do it at all!  Your postcard might look snazzy as a proof on your computer screen, but try printing it out and taking it to your own house and mixing it in with all the other mail you get.  Does anyone notice it?  Test it before sending.
Stop making these same mistakes in marketing your school!
ACTION STEP:
Download our latest FREE report:  "5 Mistakes Christian Schools are Making This Year"
Buffer