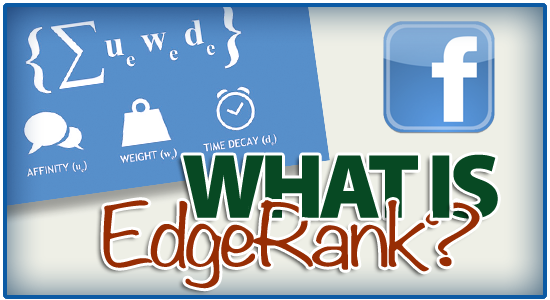 When we are talking about how to get more visibility to your school's Facebook page, you need to understand EdgeRank.  Launched 2 years ago (although most people still have no idea what it is), EdgeRank is an algorithm that ranks objects in the Facebook News Feed. Pages with high EdgeRank Scores will be more likely to show up in the news feed than Pages with low EdgeRank Scores.
EdgeRank is made up of 3 variables:
Affinity – Dependent on a user's relationship with an object in the news feed.
Weight – Determined by the type of object, such as a photo/video/link/etc.
Time Decay – As an object gets older, the lower the value.
Understanding EdgeRank is vital, but if you are still saying, "I don't get this!" then, you are not alone.  To help us out, here are 3 more resources you may find helpful in understanding EdgeRank and the impact it is on your school's Facebook page:
What is EdgeRank? [You might enjoy understanding EdgeRank from this well-done illustration/infographic]
Finally I'll let someone take a shot at teaching you more on video [watch the 11 min video]:

*OK, admittedly, this video can leave you overwhelmed, but don't be!  We can coach you through this  – contact us today!
Buffer