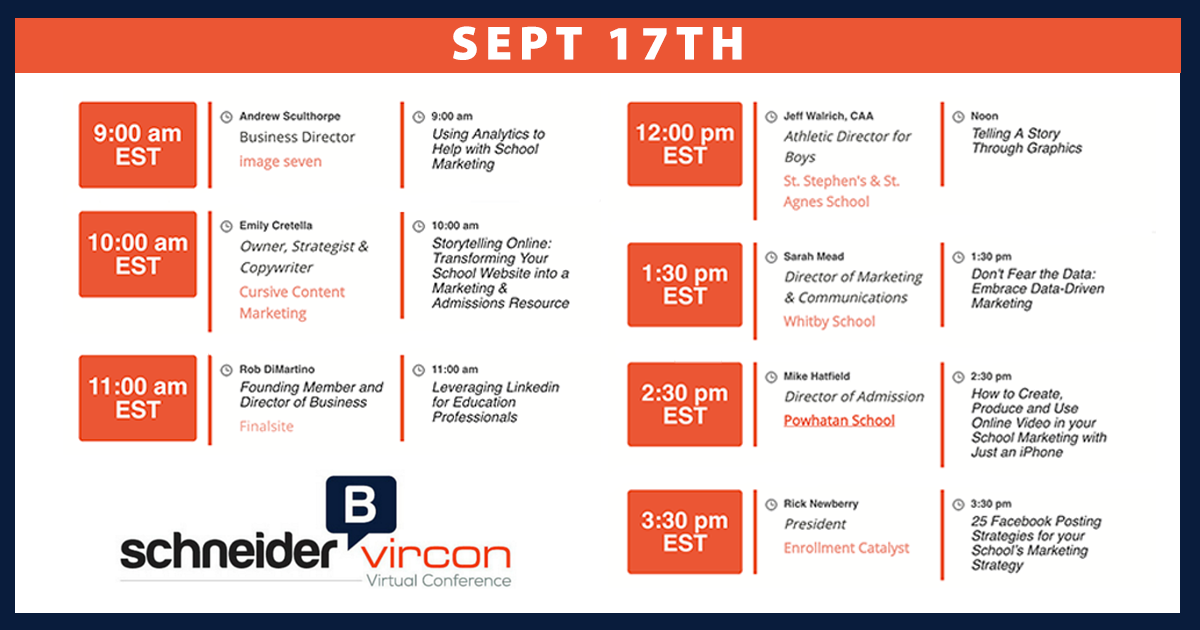 Professional development is essential for Admissions and MarCom professionals at a school. However, they can often be costly.  Time away from the office, not to mention the cost of travel and conference fees, etc….in today's world, there's got to be a better way!
One of the ways I want to tell you about is the SchneiderB VirCon 3 – a virtual conference, hosted by Brendan Schneider, bringing together 7 amazing speakers all in 1 day! Here is a lineup for this virtual conference on September 17th, 2016:
9:00am ET – Andrew Sculthorpe, Business Director, image seven – Using Analytics to Help with School Marketing
10:00 am ET –

Emily Cretella,

Owner, Strategist & Copywriter Cursive Content Marketing  – Storytelling Online: Transforming Your School Website into a Marketing & Admissions Resource
11:00 am ET – Rob DiMartino, Founding Member and Director of Business Finalsite –

Leveraging Linkedin for Education Professionals

Noon ET – 

Jeff Walrich,

CAA Athletic Director for Boys St. Stephen's & St. Agnes School – Telling A Story Through Graphics
1:30 pm ET –

Sarah Mead,

Director of Marketing & Communications Whitby School –

Don't Fear the Data: Embrace Data-Driven Marketing

2:30 pm ET –

Mike Hatfield,

Director of Admission Powhatan School – 

How to Create, Produce and Use Online Video in your School Marketing with Just an iPhone

3:30 pm ET –

Rick Newberry

, President Enrollment Catalyst –

25 Facebook Posting Strategies for your School's Marketing Strategy
Wow! What a great group of presenters – all about topics essential to every school marketer!
If you cannot attend the sessions live, no problem! You gee full access to the recordings for a full year – and yes, you can even share them with your staff!
Buffer