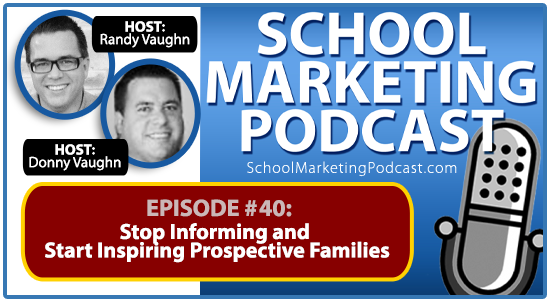 For decades, websites have provided themselves on being a source of information for prospective customers. We search the web when we need to know something to help us, how something works, or what makes our life better. Websites have grown into behemoths of informational content.
Prospective families equally expect to find information on your school website. They want to know about your history, your values, your athletic programs, your academic successes and so much more. Your school website is likely laid out in a format that allows a prospective family to find out all the information they want to know.
The only problem is that information falls short in one area. It is impersonal. Remove the focus on impersonal information and replace it with inspiration!
We convince ourselves that prospective families wake up one day and determine the quality of information on your website in making their school choice. We fool ourselves into believing the right statistic, the well-written exposition on the quality of your teaching staff, or the list of academic, artistic or athletic successes can inspire a family. It doesn't. Information informs. We must inspire families by sharing with them stories where they can find themselves in some day. The successful stories of families told in video, text or audio will arrest a mom's attention when she is longing for another way out of the current situation with the public school. To capture the heart of a dad, we must showcase evidence that what works for other similar families could work for them, too.
Information is what people dig for once their heart is turned in the right direction. And to top it off, most of the information on your site sounds so similar to your competitors that it is unlikely that prospective parents can really tell what makes your the best choice. But stories differentiate you and allow you to customize your exhibition of evidence to the needs, problems, pains, frustrations and fears of your specific target audiences.
Keep the information but lead with inspiration.
SHOWNOTES:

See below or click here for more PODCAST episodes.
Suggest a TOPIC or GUEST for the school marketing podcast.
Review our podcast in iTunes – your positive feedback tells other school marketing, admission and communication professionals that this is worth their time (remember, most podcast episodes are only 14 min and 29 seconds long!)
Buffer