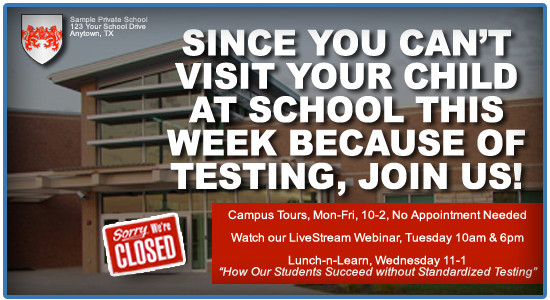 In Texas, we enter yet another week of state-level standardized testing, known now in our state as STAAR (State of Texas Assessments of Academic Readiness).
For many parents of public school students, this is a dreaded week.  As a parent of a very bright 3rd grader, I can tell you he is very anxious about it.  Our child's public elementary school is one of the best in the area, and he has a great teacher and wonderful administrative personnel.  But STAAR week is a downer for most public school families.
Here are 5 ways you can turn this into a marketing opportunity:
KNOW WHAT RESONATES – I'm not suggesting it's your only differentiator, but when you've got an obvious one, showcase it!  While you may not want to simply be an alternative to the public school system's standardized testing model (as a matter of fact, some private schools still administer the same or comparable test as a benchmark), you must consider that there are prospective families who will based their entire decision to fund private school education because they do not want their student in a learning environment often fixated on the standardized test. You may want to promote your school's volleyball team, amazing alumni successes, or even stellar academic achievements, but think about what is resonating with some families out there.  That's the touchpoint!
FEEL THEIR PAIN – for some families it is a strong enough emotion that you can have some light-hearted fun and point out that while the public school kiddos are bunkered down with "STAAR WEEK – CAMPUS CLOSED" signs all over the neighborhood, have some fun by posting invitations that read "Since You Can't Visit at Your Kid's School This Week, Join Us for a Lunch-n-Learn!" (see sample ad above)
IDENTIFY YOUR COMPETITION – I would suggest that most private schools talk about their competition as the other private schools in the area.  I suppose this is true for those families are who actively shopping around, those already in the market.  But schools cannot overlook the competitor that currently has a hold on your prospective families more – the public school system.  You are competing challenged against a behemoth that offers "free" educational options for the community's children.  You are demanding 5-figure tuition payments.  You have your work cut out for you – so when there's a glaring differentiator with you and the public school system, make sure people know it!
SHOWCASE YOUR UNIQUENESS – notice that I didn't say, "point out how you are different."  While differentiation is a significant factor in competitive school choice, you have to also sell your positives.  While parents may step into your admissions office in tears over the learning environment at their child's public middle school, you can meet them with a host of positives.  And yes, tell them how you test your kids' learning and how well the graduating seniors score on the SAT.  While some parents want to run from the state-sponsored standardized testing, they also need reassurance that their child will get a great education!
SEIZE THE MOMENT – while I'm suggesting you get a check in hand, be sure you have your marketing system in place.  Do you have a system of greeting prospective families?  Do you have a quality marketing kit that each prospective family can take home with them?  Have you captured YouTube interviews with various personnel who prospective families would want to meet? (i.e., the volleyball coach, the fine arts director, the athletic director, the math club advisor, etc – offer easy links on a take-away flyer, or via a simple QR code, that allow families to continue with a "take-home experience" once they have left your campus.)  Do you have a solid follow-up system?  Did you direct every prospective family to your school's Facebook Page?
I read an article this week where a private school said that they were "not in competition with the public schools."  The context of the story centered around a possible scandal in the public school system.  Nevertheless, far too many private schools play timid (and naively) with regard to the state competitor that lurks in every neighborhood.   Shane Haggerty, Owner/Director of Strategy at Great Heights Integrated Marketing Communications, responded to my tweet about the article:
@schoolmktg In this day & age every type of school is in competition with each other. We are in the depths of a major shift in edu, IMO

— shanehaggerty (@shanehaggerty) April 18, 2012

Don't be naive – effectively communicate your noticeable differentiators and showcase your uniqueness!
Buffer