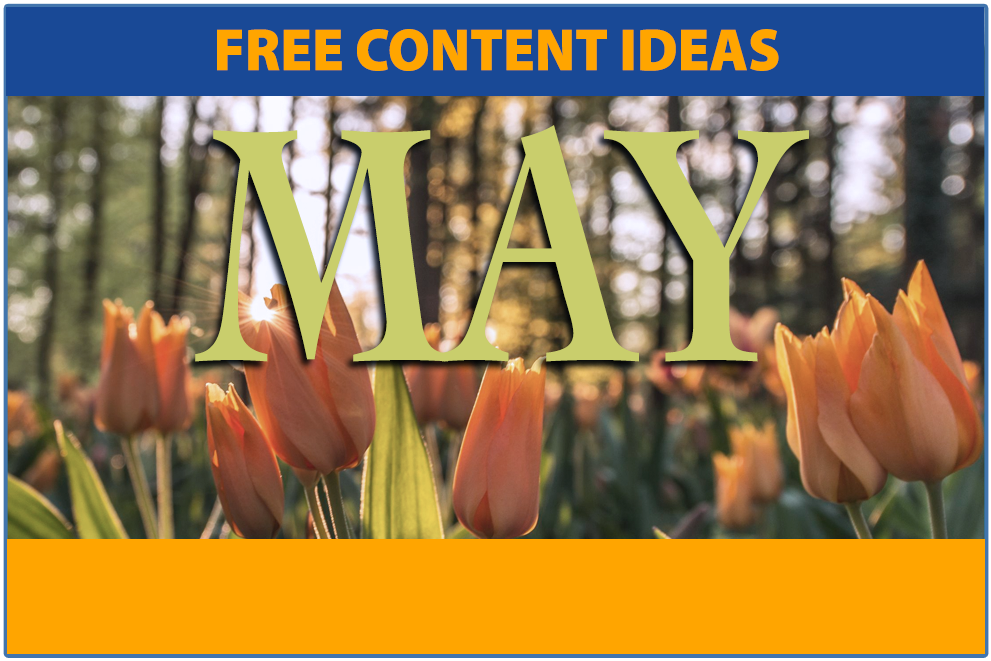 If we sing at Christmastime, "It's the Most Wonderful Time of the Year!" then the month of May may cause you to belt out a chorus, "It's the Craziest and Busiest Time of the Year!" While this may be true, you must be active online with content that your prospective parents can see, listen to or watch. One of the easiest ways to connect to these audiences is to produce content that other people are already talking about.
As I have done in the past with content ideas for the months of January, February, March and April, here are my Top 10 content ideas for the month of May to help you plan and prepare:
Teacher Appreciation (first week of May) – you may already organize special gifts and recognition for your teachers, but do not let this be an internal celebration only. Showcase your teachers in your marketing to prospective parents. These front-line warriors are the faces and stories of the individuals who will be caring daily for the children of future moms and dads. And these parents are not wanting to wait until an Open House to meet them. Feature their expertise, education and experience on the website and then share those pages all over social media. Bonus: Happy Teachers Make Great Referrals
Star Wars Day – on May the 4th, the hallways and social media sites will be abuzz with the familiar greeting, "May the Fourth Be With You", a clever play on words from "May the FORCE be with you" that sounds similar to this 4th day of May each year. Star Wars remains a cultural phenomenon across all generations at your school, so have some fun with this one!
Cinco de Mayo (May 5))- not actually celebrating Mexican independence as many think (that's in September), Cinco de Mayo is a day to recognize the rich culture of Mexican and Hispanic heritage.
Kentucky Derby (second Saturday in May) – commonly known as "The Fastest Two Minutes in Sports", this is one a few major national sporting events in May, so you may want to be creative with this one.
Bucket & Puck Playoffs – with college sports behind us, it's time for the pros to make a run for the championship of the National Basketball Association and for the Stanley Cup! While the championship events may not occur until early June, these playoff basketball and hockey games will certainly occupy your TV sets and tablets during May.
Mother's Day (second Sunday in May) – when it comes to easy content, simply pull out your smartphone and ask your students to say why they love their Mom. Video content like this easy gold! Since it falls on a Sunday, plan ahead so you can share your videos the week leading up to the holiday or at least on the Monday following.
Chicken Dance Day (May 14)- this silly song gets every moving at weddings, proms, and daddy-daughter dances is the popular song on National Dance Like a Chicken Day! This may seem silly to you, but if you participate, you can show off your fun side and join in on what will definitely be a trending topic on social media. Get up a dance (like a chicken) – if you don't know how, these elementary kids will show you how! 
Armed Forces Day (middle of May, usually on a Saturday) – Many events across the United States take place on Armed Forces Day to honor Americans in uniform who served their country in times of war and peace. This is a great chance to feature moms, dads, grandparents and other loved ones who have served in uniform. Because it falls on a weekend, post some pictures on Friday or the following Monday.
Memorial Day (last Monday in May) – Memorial Day is dedicated to service men and women who gave their lives for freedom and country. Engage your families, alumni and especially grandparents about this holiday. Have someone on staff (or a volunteer parent) write about why this holiday is important – then post that article to your website/blog and share it in emails and all over social media. I suspect your web traffic will increase significantly!
Graduation – whether it's the culmination of over a decade of school work, or if you are putting cap and gown on a cute little bunch of Kindergartners, graduation is a critical marketing event for your school. I recently wrote an article,

"Did you miss these marketing opportunities at your recent graduation?

" that will prompt with you ideas on how to make the most of this mile marker at your school.
ACTION ITEMS:

Buffer