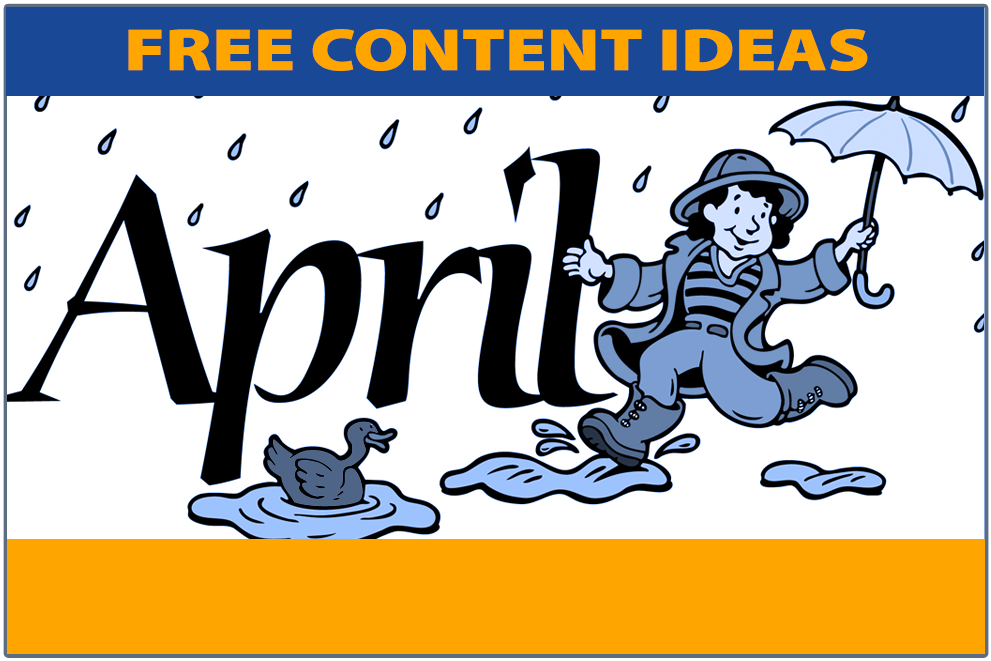 "March comes in like a lion, and goes out like a lamb."
"April showers bring May flowers"
"April…hath put a spirit of youth in everything." (Shakespeare)
Believe it or not, I proposed to my wife on April 1, 1995! No joke. It had to be a Saturday night and that was the weekend that particular spring when it was the perfect timing. Nevertheless, it still makes for some good laughs when I tell that to people.
As your school get swamped in year-end activities, do not forget that potential moms and dads are also busy looking at school options for their kids. In order to continue to be top-of-mind with all of them (when your to-do list is already full), you must continue to produce content that is relevant to their lives. And if it is part of the cultural conversation on social media already, why not create content that would keep you in the forefront of their minds?
As I have done in the past with content ideas for the months of January, February and March, here are 11 content ideas for the month of April:
April Fool's Day (4/1) – while you may wish to discourage student pranks, you may want to publish a prank school lunch menu (with worms and bugs for lunch) or have some fun on your social media channels with various pranks for this oddball holiday (here's a list of what many top brands pulled off in 2015 on April Fool's Day; also, check out Katie Couric's prank on a late-night talk show – so funny!)
PB & Jelly Day (4/2) – have some fun with the younger kids and older kids and even the staff all enjoying a PB&J feast! According to Guinness World Records, one man holds the record for eating 6 sandwiches within a minute – who will accept the challenge to beat that record? As I have said in other months, think "free news coverage"!
College Basketball Championship (first part of April) – as March Madness winds down, the Final Four is college basketball's "super bowl"! Make student connections with former students who are attending any of the competing schools; especially noteworthy if any former students are playing in the big tournament (interview them via Skype about the behind-the-scenes or about how your school helped them to prepare for college).
MLB Opening Day (usually around the first part of the month) – in the same way, recognize any former students playing in the MLB or interview your staff about who their favorite MLB player is. Hot dogs, nachos, peanuts and Cracker Jacks may be a fun lunch menu that on Opening Day!
National Library Week (4/10-16) – if your school has a school librarian, this is the week you want to do a special feature on this staff person (note: featuring all of your staff throughout the year is important!)
The Masters (ends on the 2nd Sunday of April) – golf's most heralded tournament with the prized green jacket.
Tax Day (April 15) – publish FAQs on your website (that will remain year-round) that answer common questions like "can I deduct my daughter's private school tuition?" or "can you use a 529 to pay for son's private high school?". People are likely asking you these questions already (or wondering in their head), so provide the answers.
Earth Day (4/22) – your local news stations may be looking for young people who take pride in the environment, so this may be an opportunity to do something unique that gets media attention.
Administrative Professionals Week (last week of the month) – another opportunity to introduce potential families to the personal (and personnel) side of your school.
Arbor Day (last Friday of the month) – plant some trees around campus and feature ones you have planted in previous years.
NFL Draft (toward the end of April) – while we watch our TVs and devices to see what round our favorite college players get picked by our favorite NFL teams, you may want to explore any connection you have to former students in this year's draft (or you can list out other famous former student who have played in the NFL). You may also wish to have a video or essay contest if you can have students talk about the best character qualities of some of their favorite NFL players.
BONUS: the third Thursday of April is always "National High Five Day" – how cool is that! Here's a Twitter feed about this bizarre holiday that also might give you ideas for some fun short videos around campus.
If you need more ideas on having your own content calendar, download our FREE spreadsheet calendar and a complimentary content guide.

Buffer