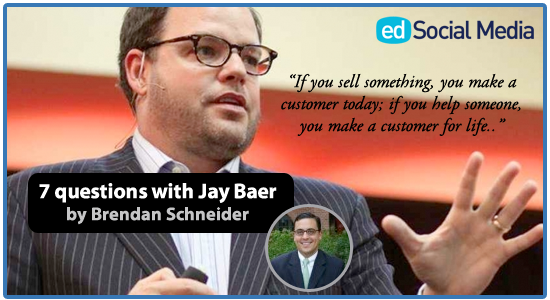 In the world of school marketing, recruiting and admissions, promotional marketing has been engrained in every school's head for a very long time. Replicating what has been done in the business world, schools would do their very best to aggressively push their product into the lives of prospective families.  This traditionally has been done through:
radio, TV, billboards, newspaper
magazine ads
flyers, door hangers and direct mail
billboards
However, in spite of our cultural rejection of much of this "interruption" marketing, schools have continued.  But let's consider the following:
Radio has given way to iTunes, Spotify or Pandora
TV can be fast-forwarded or DVR-ed, thus almost nullifying any $$ spent on expensive commercials
Billboards remain an expensive 5-second drive-by with little metrics attached
Printed newspaper subscriptions continue to dwindle in favor of digital versions
Our hurried culture tosses anything that shows up on our windshield, door knob or counter top
There are exceptions where traditional marketing works. I would also suggest that social media and inbound marketing efforts by themselves may leave you wondering about ROI.  So how do we market our schools in this contemporary age?
By being useful!
Jay Baer, author of Youtility, suggests "if you provide something truly useful, customers will reward you eventually with their attention, purchases, and loyalty."  Your school marketing seeks to produce loyal ambassadors through the 3 Rs of school marketing: recruitment, retention and referrrals.  But if you try and market solely through interruption marketing, you will miss your audience.  Instead, learn how to be useful!
Read Brendan Schneider's "useful" interview with Jay Baer on EdSocialMedia.com.

Buffer