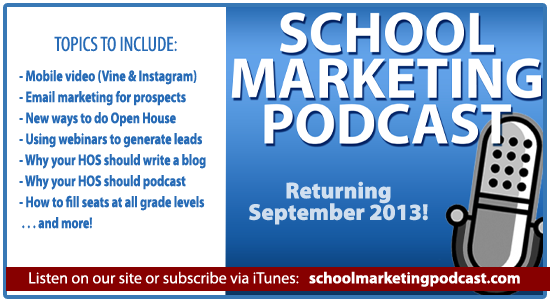 After a summer hiatus, we are gearing up for the return of the School Marketing Podcast!  Here's some of the topics we will include in our episodes:
Mobile video (Vine & Instagram)
Email marketing for prospects
New ways to do Open House
Using webinars to generate leads
Why  your HOS should write a blog (or do a video blog)
Why your HOS should podcast
How to create a compelling series of marketing events that lead families into your database
Some innovative ways to market your school at high-emotion events (i.e., graduation, Christmas programs, etc.)
How to fill seats at all grade levels and how a campaign targeting Lower School is different than Upper School
Highlights from our Summer 2013 mission trips to Honduras and West Africa
Developing high-value content for prospective families that will make them want to enroll in your school
Social media strategy (know what you are doing, when to post, what to post, and how to get your audience to care)
Guest interviews (would like to be a guest or would like to suggest someone who you would like to hear interviewed?)
. . . and more!
As always, we will continue to provide a playback option on our site as well as making the school marketing podcast available via iTunes.
ACTION ITEMS:
Also, follow our Facebook and Twitter feeds to get the latest podcast episode.
Buffer