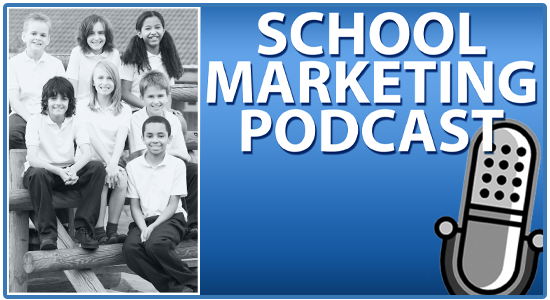 We hope you will take advantage of our bi-weekly school marketing podcast! Most episodes run only 14 minutes and 29 seconds – with the exception of our quarterly guest interviews (which might be up to 50 min in length). You can subscribe to the podcast on iTunes – currently the only podcast in the K-12 category dedicated to private school marketing. Below are two 5-star reviews we have received this year (if you have a review of your own, we welcome your review on iTunes – the more reviews, the more likely other schools can find this podcast, too!)

"If you are involved with marketing a school do yourself a favor and listen to the Your School Marketing Podcast. Randy and Donny deliver a ton of actionable information about marketing your school in 15 minutes. I find myself looking forward to each weeks episode and then trying to techniques and tips they discuss!"
~ by SchneiderB


"Anyone involved in school marketing should listen to these podcasts, which are packed with valuable information. I also highly recommend them to school administrators looking for ideas on how to use social media to promote the great things happening in their schools.
– by S_bearden
___________________________
As we continue to produce new podcast episodes for 2013, we anticipate a growing community of private and Christian school marketing professionals.  Please share with us ideas you have for guest interviews or topics online or via our voicemail line (details below).
-Randy
IMPORTANT NOTES:
See below or click here for all of our PODCAST episodes.
Suggest a TOPIC or GUEST for the school marketing podcast.
If you have a question or comment about this episode or any of our school marketing podcast shows, leave us a VOICEMAIL.
Review our podcast in iTunes – your positive feedback tells other school marketing, admission and communication professionals that this is worth their time (remember, most podcast episodes are only 14 min and 29 seconds long!)
To subscribe to the school marketing podcast, click on the image below:


Buffer