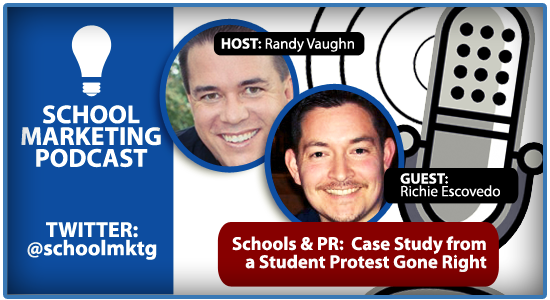 In the continuing pursuit of on-demand content for school administrators, admissions professionals and marketing and communication directors for private schools, we launch the next episode of the school marketing podcast.  In this episode, I talk with Richie Escovedo, Director of Media and Communications for the Mansfield ISD.  You'll hear Richie share ideas of "aggressively monitoring the conversation" and "growing bigger ears."  I think you'll learn alot from this case study from a "student protest gone right"!  As well, hear Richie share practical tools on using social media in the education world and how some of the roles and functions of the PR professional relate to positions on a baseball team.
Twitter:  @vedo
Blog:  nextcommunications.blogspot.com
Richie's Suggested Twitter Hashtags:  #HAPPO, #HAPPODFW (Dallas/Ft.Worth), #PR20chat, #prstudchat, #prsa
BIO:  Richie is a communications/PR professional with experience in educational and non-profit settings. He specializes in communication planning, branding and identity, community engagement, and media relations.
This husband and father of two from Fort Worth believes in education and the integral need for effective and open communication. Richie is also focused on helping blossom the social media interest and network within the Dallas/Fort Worth area.
Click on the "+" sign below to play the 25-minute episode.
SCHOOL MARKETING PODCAST: Schools & PR: Case Study from a Student Protest Gone Right with guest, Richie Escovedo
IMPORTANT NOTES:
See below or click here for more PODCAST episodes
To suggest a TOPIC or GUEST for the school marketing podcast, click the button below:



Buffer