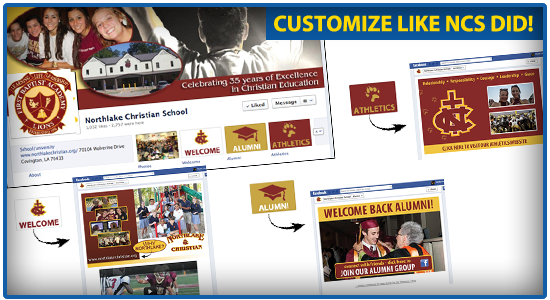 As you prepare for marketing events like a preview night or open house event, what if your Facebook page was a "virtual" open house?
What if they could get a "tour" of your school's uniqueness even before they called or came to your campus?
What if alumni could connect to one another which fosters a strong donor base among former students?
What if they could watch videos, see sports schedules, and even schedule a tour – without having to leave Facebook?
With a custom Facebook page, this is all possible!

Here are some of the things you can do when we customize your page:
Be creative in the Timeline cover photo
Integrate your school's logo into the profile image (and thumbnail image)
Showcase up to 3 custom "tabs" (see Northlake's WELCOME, ALUMNI and ATHLETICS as example)
Establish a "Like/Reveal" gate where you increase the capture of LIKES on your page (that is the goal!)
Up to 3 custom landing pages corresponding to the "tabs" mentioned above
On these landing pages, you can:

Link to an external site (i.e., your school's website)
Link to a Facebook group (i.e., your Alumni group on FB)
Embed YouTube or Vimeo videos
Embed LIVE portions of your website (via iframe technology; i.e., sports schedules, staff directory, etc.)
Incorporate creative design that mirrors your school's branding
Capture email addresses, newsletter signup (i.e., using MailChimp or Constant Contact embed code)
Link to other social media channels (i.e., Twitter, Pinterest)
Link to map
Include an on-screen QR code linking to another image, video or PDF
Drive traffic directly to these landing pages via FB ads, email marketing, etc… (each landing page has a unique URL)
. . . and so much more!
These custom landing pages act as a "mini-website" for some, and for others, it may be a more dynamic representation of who you are! When prospective families are searching for private schools, don't you want your FIRST IMPRESSION to be a powerful one?


Through the end of the year, you can get all of the above for only $400 (a $750 value)!  But, here's the catch:  at this price, we can only offer this promotion to the first 4 schools who want start customizing right away!
The promo code for this offer is: EOY400 (you'll enter that in the appropriate box on the page after clicking the link below)

Action Step: Click here to get started (or to get more information) about customizing your school's Facebook page!
Buffer