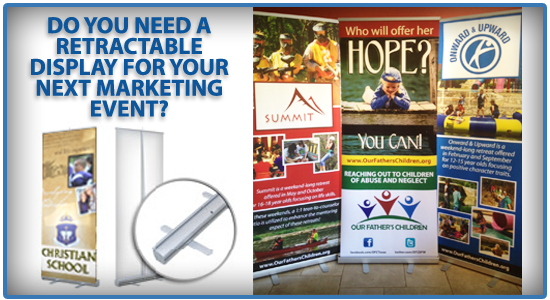 Our customized retractable banner stands (also known as pop-up displays) are popular for several reasons:
EASY TO TRANSPORT – these lightweight retractable stands are conveniently packed in a small bag (less than 3′ wide) with a handle which makes for easy carrying from the car to the arena.
EASY TO SET UP – typically, it can take less than 5 minutes to pull up the banner, attaching it to a single pole, and ensuring it is clipped on the aluminum base.  Absolutely no tools are required!
QUALITY VINYL – these 10 mil indoor premium vinyl banners are durable and will last (not intended for outdoor use; they are not water-proof).
MULTI-USE – whether set up as stand-alone displays, or next to a table or a table-top display, these reasonably priced vinyl banners can stand next to a large 10′ floor display to draw attention or highlight a uniqueness of your school.  And with the right creative design, 3 or 4 stand-alone banners, could also stand next to one another to create an approximate 10-12′ wide "wall picture" (note: there is a 1-2″ gap when standing these retractable displays side-by-side.)

FREE PROFESSIONAL DESIGN

– included in your purchase of a single-sided retractable banner is our complimentary graphic design services!  In addition to the vinyl banner, the aluminum stand and the lightweight tote bag, you'll receive the option to have our design team take your logo, high resolution photos and other graphics and create an attract 4-color design the will certainly draw the attention of prospective families.  With this professional design, you will be offered 1 initial concept (based on our phone or email consultation) + 2 additional revisions (additional revisions can be added at an additional fee.)  Most online sites that sell similar retractable banners require camera-ready artwork or they will charge up to $125/hour for help with your custom design (bringing your total for banner, stand, and custom design to over $700!)  We can answer all your questions about custom design in our phone consultation.
As you prepare for your marketing events, we would love to help design a customized retractable banner for your next open house, preview night or expo event.  As an example of our work, in the right side of the image at the top of this post, you'll see 3 retractable banners we recently designed for a nonprofit organization that works with children of abuse and neglect.
Contact us below to ask questions about pricing or to get started: