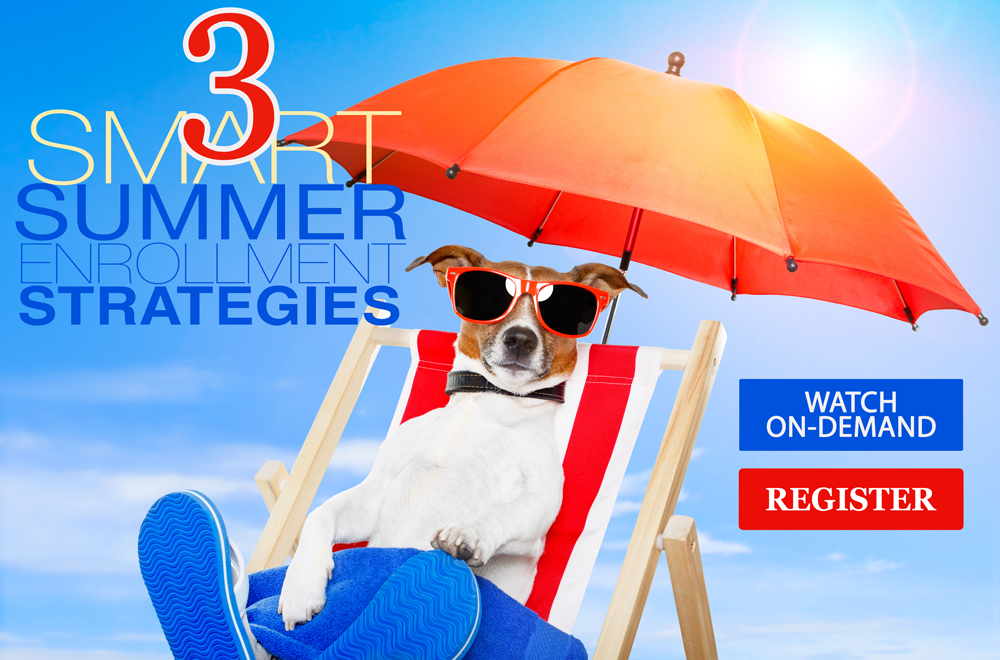 REGISTER:
[
NOTE
:
This presentation will be made available to you after you register. Watch it on-demand when it is convenient for you. Be sure to bookmark the following page so you can review the presentation at a later date.
]
FREE SUMMER SOCIAL MEDIA CHECKLIST
When your competition is MIA, you are putting out great content!
Summer holiday content ideas that will almost guarantee likes, comments and shares
Using social media to showcase your school's successes over the past year
Strategies for generating leads and growing your school's list of potential families
How to use summer camps in your admissions efforts to ensure you don't miss opportunities
Back-to-school planning tips and FDOS social media content suggestions
VIDEO: 3 SMART SUMMER ENROLLMENT STRATEGIES
45-minutes, on-demand, narrated presentation
Ensure those last-minute inquiries are not missed
Get a head start on the next enrollment marketing season
Learn how to customize your marketing toward a specific audience
Get some practical branding tips, not only your visual identity but also your brand messaging
Help plan a dynamic content marketing strategy for the summer and the upcoming school year
SUMMER POOL PARTY - PRIVATE ACCESS POOL
Individual social media coaching over the summer and into next year!
4 private phone consultations conducted during the months of June and/or July 

We will work with you to schedule these private consultations that work best for your schedule. Because we use a conference call line, you can also invite other team members from your school to join you from other locations (home, travel, office). 
Each call will last one hour. We will work with you on the strategy of social media as well as specific creative ideas to help you improve your social media efforts.
Each call will be recorded for playback at a later time.
Get access to 3 individual coaching calls with a school marketing consultant

RECENT FACEBOOK REVIEW: "Randy generously gave of his time and talent to help our newly-begun social media marketing. He gave us excellent suggestions and was truly helpful. Can't wait to put into practice what he shared. I think it will make a big difference. I'd recommend Randy to anyone who wants to see their business grow as a result of social media marketing."
BENEFITS:
Four conference call sessions conducted over the summer
Unlimited email access for the entire months of June and July. Ask for as much advice as you want!
One (1) individual follow-up coaching call before September 30, 2017
One (1) individual follow-up coaching call before December 16, 2017
One (1) individual follow-up coaching call before April 30, 2018