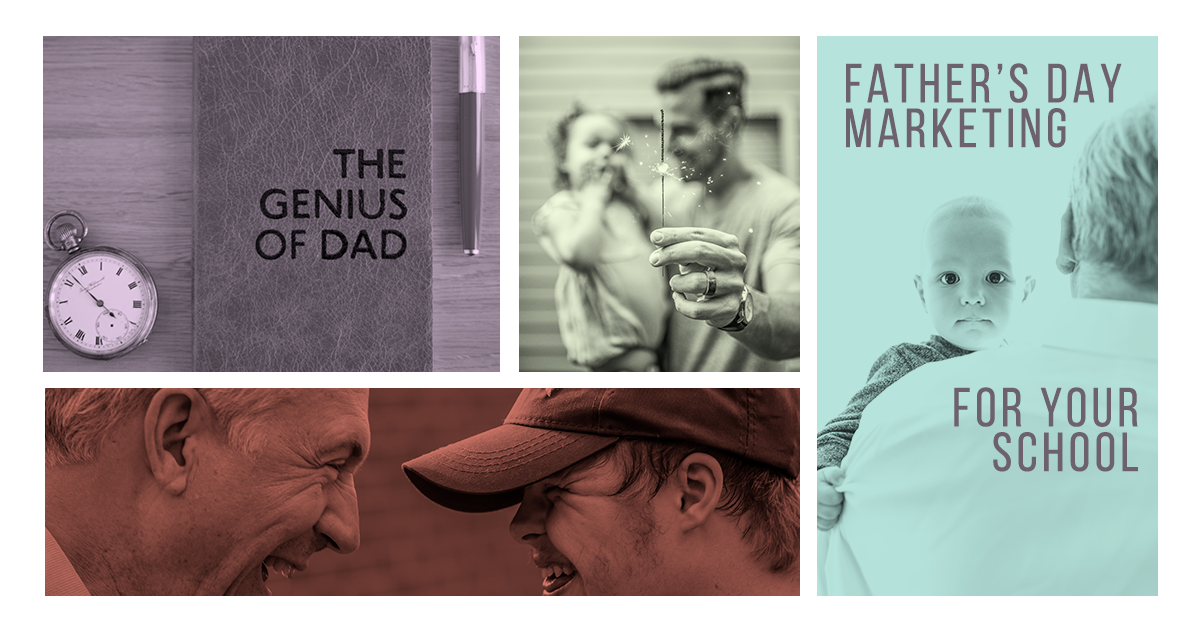 SInce Father's Day happens in the U.S. in the summer month of June, it often gets overlooked in terms of marketing schools. But there are so many things you can do . . . and SHOULD be doing. Most notably, summertime often leaves you with a very slow drip of content because there are no students on campus. So why not take advantage of a high-emotion holiday and create some marketing around good ol' Dad!  Here are few ideas to get your creative juices flowin'!
Here are few ideas to get your creative juices flowin'!
NO MORE TIES: if you are doing a building campaign, invite students and alumni to "buy a brick" in honor/memory of their Dad, Grandfather or special Father-Figure in their life.
DONUTS WITH DAD: just about every school has a "Donuts with Dad" day during the school year – but what about the Saturday of Father's Day weekend? Use this as a promotional event open to the community. Have a lot of crazy games (host a donut-eating contest, create a miniature golf course around campus, play donut ring toss, create Guinness book of world's records donut tower, etc.) and get your current school dads involved in hosting the event. Maybe invite a funny but invitational speaker or a fun Dad-band (instead of "boy band") that would make the event a lot of fun. You get a reason to invite people on to your campus during the summer months
ANIMA-ZING DAD: inexpensive tools like Animoto give you a Father's Day video template where you just plug in a few pictures and . . . voila! Here's an example from Christian School in Clearwater, FL on their Facebook page from 2016.
MEMOREASY: one of the easiest productions is to invite students to do a small clip of themselves answer a few basic questions like, "What's your favorite thing to do with your Dad?", "What's the funniest memory you have with your Dad?" or "What's the one piece of advice you always hear your Dad saying?" Then put these into a simple movie using iMovie or Windows MovieMaker. You can add some fun by including funny questions like, "What's the grossest thing your Dad likes to eat?" or "When you are on vacation, what's the one thing Dad says in the car that drives everyone crazy?" Since most students are out of school in June, invite students to text in their videos. Offer an incentive to get them to participate (free dress day, spirit wear coupon, parking pass, etc.) Here's a great example of hearing kids talking about their dads.
COMPOSITION CONTEST: get extra creative and invite students to compose original songs, poems or other dramatic presentations about their fathers, the role of Dads, or a song that honors influential men in their lives. Ask for submissions and then assign some judges or ask social media to rate the performances. You might be surprised with what kind of hidden talent there is out there – and some possible video content that could go viral!
HE-LARIOUS: have fun with dads on video by asking them to do funny things. Have students compose a text message completely from emojis and ask dads to interpret it. Or even better, ask dads to act out emojis. It's really funny stuff!
LEGA-SEE: wouldn't it be cool for prospective parents to see a legacy of dads at your school? It shows great continuity and how your school continues to attract generation after generation. Perhaps you have a son, his dad, a grandfather and even a great-grandfather talking about their favorite memories (it would be cool to have pictures and video of each generation of man speaking, let's say, about your school's great basketball program). Dick's Sporting Goods did a nice multi-generational tribute to Father's Day.
DADS-SPEAK: a great way to feature the male leadership at your school is to feature them on video. Ask them to share advice they received from their fathers. Ask them to tell stories of influential men. Not every male figure will be great on video, but it might be a chance for prospective families to hear of the depth and maturity of men on your campus. In the media, strong males are often depicted as mean and uncaring. Or TV portrays them as bumbling idiots who cannot manage their household with strength. Showcase your dads who also lead your school! Here's a Cheerios commercial that went viral all about #howtodad.
If you also need help this summer with knowing how to market your school, we can help!
Click the button below to get started with your FREE phone consultation!

Buffer