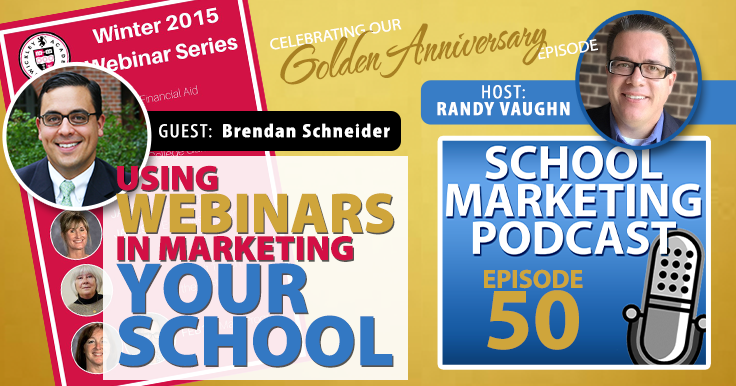 Definition of School Marketing:
"Get ideal families to know, like and trust you to build loyal ambassadors for your school."
As I mention in this episode, Brendan was one of the very first guests of the School Marketing Podcast, sharing that interview space with Dr. Rick Newberry. [Note: the link to that episode is listed in the Action Steps below – but please, keep in mind that it was a long time ago and our inaugural adventure into the world of podcasting, so please listen with a lot of grace!]
So it was only fitting that I have one of them back for the 50th episode of the podcast. Brendan agreed to do it.
** After recording the episode, I sent Brendan a thank you mug for being the Golden Anniversary guest! **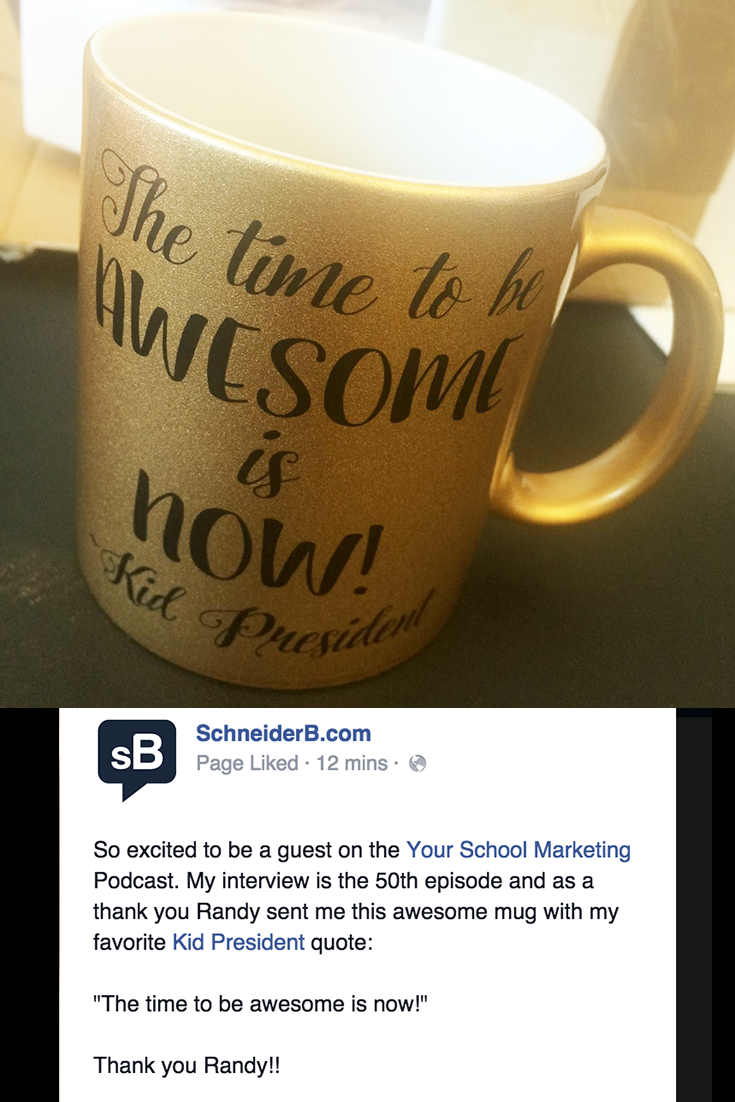 In this episode, Brendan Schneider, Director of Financial Aid and Admission at Sewickley Academy, shares their experience with using webinars in their marketing system. I love this innovative approach! If you are hesitant about trying new things like webinars, remember one of the things that Brendan shares in this interview: "Try it!"
Episode length: 59 minutes
See action steps below . . .
BIOS:
Brendan Schneider is the Director of Admission and Financial Aid at Sewickley Academy. He is one of the leaders in the field for teaching on and knowledge about inbound marketing for schools. He presents and consults on inbound marketing, branding, marketing technology, and social media at the regional and national levels. With his workshops, the SchneiderB.com blog, his SchneiderB.fm podcast, and over 50,000 tweets of insight over the last four years, he continues to advance the abilities of the independent school admission, communication and marketing professional. Brendan is also a Board of Director for the Association of Independent School Admission Professionals.
His work has been featured on the blogs at edSocialMedia, Social Media Today, Business2Community, Admissions Quest, the Association of Independent School Admission Professionals (AISAP).
He has spoken at numerous conferences including the AISAP Annual Institute, the SSATB Annual Conference, the National Association of Independent Schools (NAIS) Annual Conference, the New York State Association of Independent Schools (NYSAIS) Admission Directors Conference, the Independent Schools of Northern New England (ISANNE) Admission Directors Conference, the Association of Delaware Valley Schools (ADVIS) Admission Director Retreat, and the Association of Independent Michigan Schools (AIMS) Admission Directors Meeting.
ACTION STEPS:
Buffer