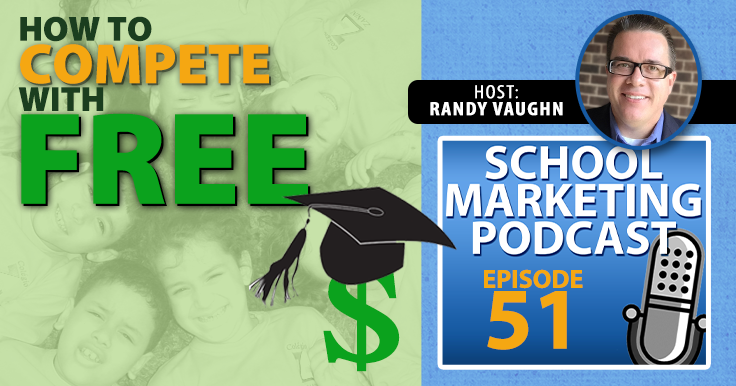 One of the most common questions I get, when consulting with private and Christian schools, is: "how do we compete with free?" With the rise of free charter schools, alongside the long-standing challenging of competing with free public schools, tuition-based schools are continually being forced to showcase value for the cost of tuition. Why would a family pay for private education when (if this is the case) the "free" public schools are strong schools? Why would a family choose an expensive private school when new, niche-based charter schools also offer smaller class size?
How will you compete with free?
In this episode, I share with you a handful of responses from a recent audience survey where I asked YOU to share your ideas on how you compete with free. In future content (report, blog article, etc.), I will reveal even more ideas, but episode #51 of the School Marketing Podcast will get us started!
Episode length: 14:29
See action steps below . . .
ACTION STEPS:
If you still want to weigh in on the question, "How to compete with free?", contribute your own ideas: click here to participate in the survey
[Update] one of the survey participants that I quote in the podcast is from deanschoolconsulting.com – I misunderstood the comments on the survey ("is free really free", starting at 5:20), as I perceived her wish to be for anonymity. I apologize for leaving Jodi Dean's name unmentioned on the podcast. It was

never

my intention to try and claim her thought as my own.
Update on Randy's speaking schedule at various private and Christian school conferences, including RenWeb in July.
Review the podcast on Facebook (click DESKTOP or FB MOBILE or APP)
Take a course at the School Marketing Academy (one low price of $97 for an all-access pass)
Sign up for a free 30-minute phone consultation with Randy
Buffer