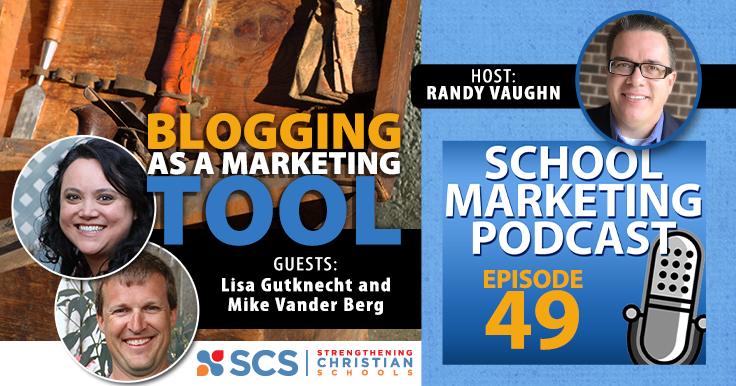 Excited to share with you an interview with two representatives from Strengthening Christian Schools, whose concept is to build a community of experts in a range of fields, all of whom are passionate about getting every Christian school to the next level.
In this interview, I spend a few minutes with SCS Co-Founder, Mike Vander Berg, where we talk about the purpose of the SCS, the upcoming conference in California (where I will be delivering the keynote address), and on new effort to provide virtual classes to help Christian school administrators.
In the latter part of the episode, Lisa Gutknecht, also with SCS, gives you powerful tips on using a blog for marketing your school.
Episode length: 1 hour, 12 minutes
See action steps below . . .
BIOS:
Mike Vander Berg is one of the partners at Dynamic Internet Solutions, LLC. Before starting DIS in 2003, he served as the Director of Software Development at Powercom Corp. and then as a Director at Cooperative Education Service Agency (CESA #6) in Oshkosh, WI. He also taught high school math and technology for seven years at two Christian schools in the Midwest.
Lisa Gutknecht is the Operations Manager at Dynamic Internet Solutions, and has been working with DIS for over 6 years. Prior to DIS, she worked in marketing and technology for a nonprofit, and originally started her technology project management career in the telecom industry. Lisa describes herself as first a daughter of God, a wife, and mother of two. She is blessed to get to work full time with one of her passions – practical every day applications and tools that can help church and school ministries grow.
Dynamic Internet Solutions is a software development company passionate about serving the needs of Christian schools, churches and other ministries. Today, they work with nearly 1500 ministries in 15 countries throughout the world. The primary purposes of this business are to give employees the ability to use their God-given talents to serve others and for ministries with great needs to benefit from those talents.
ACTION STEPS:
Buffer