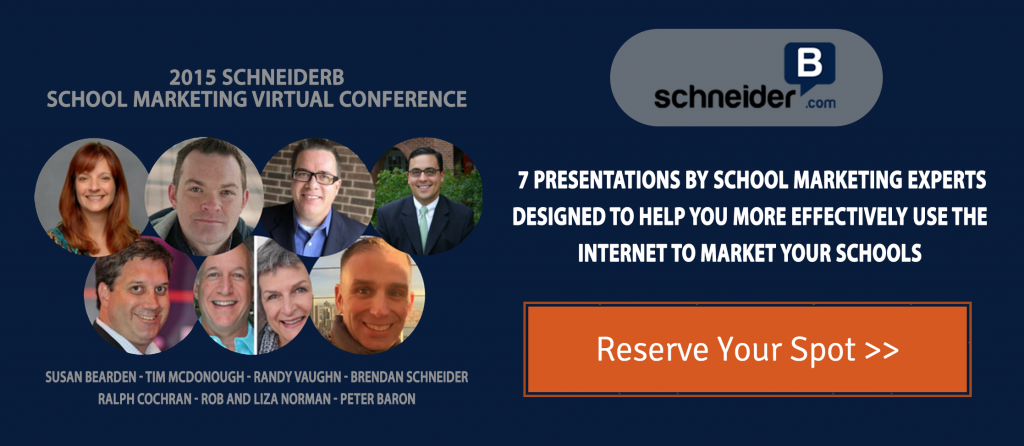 On Saturday, September 26, 2015, I have been asked to join 6 amazingly gifted experts on school marketing as part of the "SchneiderB School Marketing Virtual Conference".
Many of you are familiar with Brendan Schneider's work as Director of Advancement at Sewickley Academy near Pittsburg, but Brendan is widely regarded as one of the best inbound marketing experts in independent school marketing. I am honored that he picked me to present one of the 7 virtual presentations.
My topic is: "Using Pinterest to Market Your School". This is one of the largest social platforms, widely used by individuals that mirror your school's ideal demographics. While most people think Pinterest is only about sharing recipes, home decor ideas and fashion trends, Pinterest is where people share with their friends and followers about everything that is important to them (like their kid's education). It is even quickly becoming a strong competitor to Google as a dominant search engine. There is a powerful way that your school should be using Pinterest, and I cannot wait to share it with you.
The great thing about this virtual conference is that you will also receive access to 6 additional webinars with the following topics/speakers:
How to Market Your School Using Twitter (Susan Bearden)
The importance of storytelling in admissions; web, social, and offline (Tim McDonough)
How to Use Webinars to Market Your School (Brendan Schneider)
How To Build An Inbound Marketing Campaign For Recruiting More Millenials With Kids(Ralph Cochran)
By Example: Inspirational School Marketing Leading the Way (Rob and Liza Norman)
Behind the Scenes Look at the Making of a Podcast (Peter Baron)

Question: "I cannot attend live this Saturday, can I watch a recording?" Answer: Yes! And you have access to all 7 webinars for 1 full year!

Question: "I watch many webinars, but feel alone afterward. How will this conference be any different?" Answer: In addition to having access to the conference recordings for 1 year, you'll also have access to a PRIVATE Facebook group for attendees and presenters where the learning can go on all year long.

Question: "What time does the virtual conference start?" Answer: The first presentation is 9am EST and the final presentation is set to start at 3pm EST.
I look forward to many of you joining us for this all-day live webinar event. With the recordings available to you later, there is no reason to miss this event. If the cliche "sign up for less than $1 per day" didn't sound so cheezy, I would use it. It's that much of a value!
Buffer