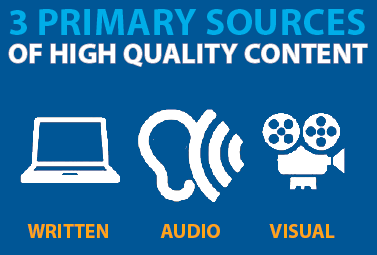 The best way to attract targeted audiences is to offer them something of value, not a promotional brochure.  Schools are conditioned and prone to be some of the worse self-promoters, but just about every business is guilty of it.  But if we do not promote, how will they come?
I suggest that there are 3 easy ways to produce content that will attract the right kinds of families to your school:
Written
Audio
Visual
WRITTEN:  this is by far the easiest to create because all you need is a document-creating software like Word or InDesign [as a Mac user, this is what I use].  And once I have written and designed the content, I turn it into a PDF (Word and InDesign both have capabilities of saving the document in a PDF format).  You can also write articles online on your own blog or as a guest blogger.  One Admission Director in Maryland frequently writes on a community blog call Patch.com (click here to see how Trevor Waddington of Christ Episcopal School in Rockville, MD writes).
AUDIO:  one of the best ways to showcase family testimonials is to have recorded conversations with them.  Like many of us, being on video is nerve-wracking and candidly, some people are awkward on video (I have struggled with this myself).  The solution is to capture audio only.  You can Skype with them or do a Google Hangout and record the audio.  I like to use Audio Acrobat and FreeConferenceCallHD.com as each telephone call is recorded into an Mp3 file.  You could also use most smartphones to capture audio as well.  I would recommend a quality external microphone if you can.
VISUAL:  when possible, capture some families/students on video.  You do not have to have the fanciest equipment to do this – I think nowadays, it is perfectly acceptable to use your iPhone to record video (turn it horizontal and not vertical).  You could enhance the sound capture if you use a device like we bought that allows you to have wireless microphone capabilities that connect to your iPhone or iPad.   Hosting webinars is also a great way to utilize visual content that allows you to share your information with your audience (recording the webinars gives you video content that you can use over and over).
But what kind of content should you share?  Let me share with you a few ideas of how to target your ideal audience with content that attracts.  HINT:  a strong provocative headline/title will aid in arresting the attention of your audience and demonstrating that this content is not about YOU but about THEM!
Elementary-aged children
"7 Mistakes Christian Parents Most Often Make in Raising Disciples"
"3 Tips on Steering a Strong-Willed Boy to Success at School"
"13 Moms Reveal Their Secrets About Parenting Daughters"
Middle School-aged students
"At What Age Should My Daughter Get a Cell Phone?"
"My Son Wants to Be on Instagram, but He is Only 11. What Should I Say?"
"The Top 10 Most Disturbing Things Parents Find in Public School Textbooks"
"Having A Social Media Contract with Your Teen"
High School-aged students
"7 Tips to Choosing a College"
"Things High School Girls Are Doing with Snapchat, Kik & Ask.fm That You Should Know About"
"Credit Card Danger: Preparing Your Child for College Finances"
You can tell that the content is not based on your school's offerings, but rather on what is important to them!  Provocative/edgy headlines grab their attention, but the essence of the content attracts people because these are the needs/problems/pains/frustrations/fears they are wrestling with.  This is what parents talk about late at night, what Moms share with other Moms over coffee, or what keeps a Dad awake at night.
Once you attract them, you begin leading them on a journey of showcasing how your values match their values.  You demonstrate your solution through informational content and content that builds trust (testimonials).
Your sales approach starts with earning their attention and ultimately their trust.
GOOD BOOK TIP:  Jay Baer wrote a book called Youtility: Smart Marketing is About Help Not Hype and is worth your look. 
Buffer