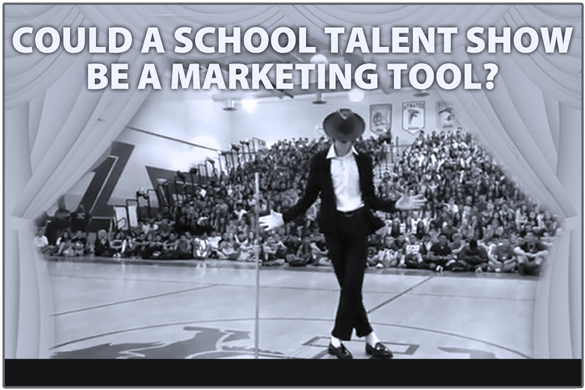 We live in a world culture where talent has never been more on display. Fans love "The Voice", still go nuts about "American Idol" and "Britian's Got Talent" videos are shared all over Twitter and Facebook.
Here are 3 reasons we  love watching talent shows.
INNER ENVY – we all watch because we have this inner star in all of us that wonders what it would be like to "make it big"
SIMPLE TIMES – while today's TV culture can sometimes be raunchy and rowdy, talent shows remind of us simpler times when we could sit down as a family and watch good talent without having to be graphic, crude or over-the-top to grab our attention.
UNDERDOG FAN – we all cheer for the underdog, the individual or group who seems (on first appearance) to have no change at stealing our vote (Susan Boyle is the perfect example)
Yes, they can be huge marketing events for you as well – here are 4 ways to effectively market your school via your talent show:
ATTRACT LOCAL TALENT – coordinate a local community talent show and invite participants from your town to audition.  You might suggest an age range of 4-18 just so you can keep it to student talent. You can host the auditions in front of a crowd, in front of a private panel of judges, or you might have people submit videos posted to your Facebook and allow your Facebook fans to vote.  (WooBox Photo Contests is a popular app for this.)
THE TALENTS CREATES THE BUZZ – if your 5-year-old daughter is singing "Let It Go" or your high school son's drumline is auditioning, as a parent, you will tell the world! You will tell them to vote in any online contest (see #1) or tell their family and friends about their audition. At a minimum, require talent to have one demo video so that parents could share that with their followers.
BIG EVENTS ATTRACT – certainly when it is time for the finalists, host the event preferably on your campus. Foot traffic allows people to know where your school is and for them to see the school in person. You don't have to overly promote the school during the event, but you will generate and capture leads from foot traffic on your campus.  Invite the media to cover it. Make sure local radio and TV personalities are invited and maybe even invite one of them to MC the event.
SOCIALIZE IT – what takes place on campus, be sure and capture tons of photos and video and share it around social media. Ensure a common hashtag allows followers to connect and share with their friends.  Ideally, you have a Sweet Sixteen set of contestants possibly chosen from the panel of judges or via the Facebook contest. And then invite the Final Four back in two weeks for the finale!  This allows the event to have several days to rise up and permeate the news feeds.
Capture email addresses for your email database when and wherever you can. I would not suggest you asking talent show fans to "sign up for our email newsletter if you want to learn more about our school" – that's not what they are there for.  Offer something of value for different age groups and invite people to register their email address to receive it (reading readiness tip sheet for PK families, navigating middle school years, or choosing a college for upper school students). As they are added to your database and subsequently start to receive your other helpful emails, they will either unsubscribe or even start signing up for more of your events, news, and announcements.
A school in California recently posted a YouTube video to their school's Facebook page that has gone viral (SEE BOTTOM OF POST: at the time of this posting, it has received over 9 million hits on YouTube!)  It is not apparenty, but perhaps all the talent seen in this video has come from this one school. In our example above, you would want to invite students from all over your community.  If you really wanted to display non-partiality, have your students perform for fun at the shows, but do not allow them to be included in the voting (this way it doesn't seem stacked in your favor – this single element of "surprise" would be part of the word-of-mouth buzz and probably attract other students and families who may otherwise think they would never have a chance to beat out one of the host school's students).
Here's another talent that has a half million hits on YouTube that also made an appearance on "Good Morning America"! This one is more personal since my nephew is in it!
Buffer