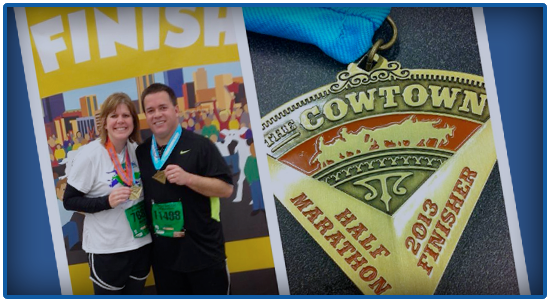 This past weekend, I completed my second half marathon in 12 months.  My inaugural 13.1 mile effort was at the Dallas Rock n Roll marathon in March of 2012.  I decided to run closer to home this past weekend (Feb 2013) in our hometown of Fort Worth at the Cowtown marathon.
So I will now attempt to relate my running experience to marketing (is this a stretch?)  Here goes . . . "5 Things a Half Marathon Can Teach You About Marketing":
NAME WHAT YOU ARE DOING – While it may seem like semantics, if you are really going to succeed at running 13.1 miles, you have to realize it's NOT A RACE.  It's a RUN.  Two very different words that help guide your every step.  In a race, there is always someone to beat but always a nagging fear of losing.  A run is more intentional, systematic, and measured not by who you beat but how well you finish (see the inset FB response from my friend and Duct Tape Marketing consultant colleague, Randrew Aimone, said).  In marketing, competition is an important consideration, but you need to first know that you are creating a long-term effort of branding, inbound marketing, and the implementation of a marketing strategy that generates new families each year who re-enroll and tell others.  This is what I call creating "loyal ambassadors" (click to listen the podcast episode where we talk more at length about this).  Once you know defines winning, you'll focus less on losing out to some other guy.
PACE YOURSELF – If you wake up one day and start running as fast as you can, you'll run out of steam about Mile 3 (or sooner).  Every good distance runner knows that while speed and personal records are individual achievements, you work toward those accolades after a systematic approach to training.  When I started training for first half marathon, I began 10 months out.  At that time, I could barely breathe after one single mile . . . and most of that was walking.  But I worked toward the end goal and 10 months later, I finished 13.1 miles in just over 3 hours.  If marketing your school is overwhelming (especially in learning the "new ways" of social media), just start small, set a goal, and work toward checking that off the list.  Creating marketing achievements are your mile markers that encourage and reward you when you have reached them.
I THINK I CAN, I THINK I CAN – The Little Engine That Could pushed through even when it got difficult.  If you have properly equipped yourself, you can honestly go farther than your body might tell you.  When I hit the uphill climb after Mile 9, I wrestled with the temptation of just walking the rest of the way.  But I had trained for this, and while the pain was intense, I was inspired by the cheering voices from the sidewalks (and by my beautiful running partner and wife!)  So while I wasn't running at the same pace as Mile 2, I kept going.  In marketing, you will likely hit road blocks.  Go back to your foundation (you do have a marketing strategy for your school, right?)  Remember how creating an effective marketing system can work for the long haul.  And as always, have a designated cheering section that can say just the right words to help you take the next step!
FIT GUYS HOBBLE – this sounds funny, but one of the things I loved most about the Finishers Room (where all the runners went to rest and refuel) was watching these incredibly fit runners hobble around.  Whether they did 13.1 miles or the full 26.2 marathon miles, every runner looked tired (which made me feel good since I felt like I could barely walk to my car!)  Even with a smile on my face for finishing, my body was sore….but the marathoners were sore, too!  So, yes, even when you look around at other schools doing marketing well, acknowledge that their results did not come without a lot of hard work.  Those who are content with the status quo go home at the normal time.  Those who are satisfied with where they are never read about anything new.  Those who refuse to adapt refuse to learn anything new.  As you seek to understand new marketing tools or the latest marketing trends affecting your school, you will spend more energy, push yourself farther, and get tired.  But with the right recovery, I have felt energetic since the run.  Expect some pain, create some healthy boundaries for refueling, and . . .#5!
RUN WITH PATIENT PERSEVERANCE – one of my favorite running Scriptures is found in the NT book of Hebrews, chapter 12.  The metaphor that is a closely related to my spiritual discipleship journey with Jesus is paralleled with that of an athlete's persistence (Read Hebrews 12:1).  Some Bible versions render the word "patience" while others feel like it is more accurate to suggest "perseverance."   I will grab 3 P's to help you staying on course in your marketing:  persistence, patience and perseverance.  There will be obstacles, but trust your marketing system, ignore the detractors (often your own negative voice), and focus on telling the stories of families who have been blessed by your school.
Running a half marathon is all about training, having a vision for finishing strong and realizing the reward at the end.  I hope that your efforts to market your school leave  you energized and set up for success!
Buffer