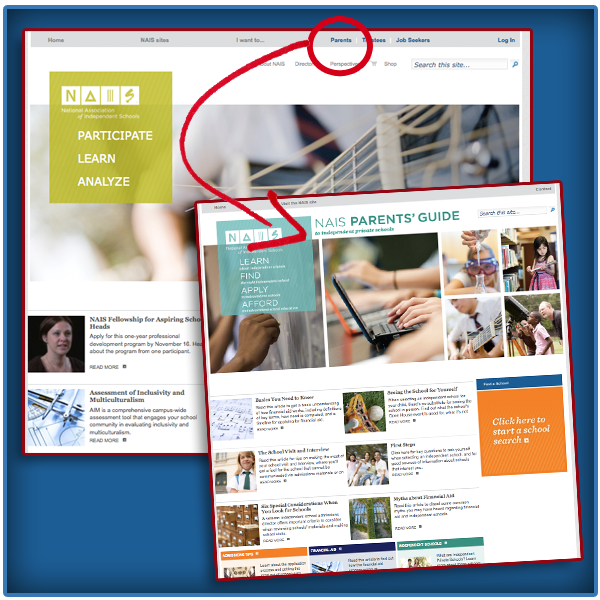 When talking with private school clients about creating high-value blog content for their social media system, one of the most common questions I get is, "what do I write about?"  Admittedly, it's so much easier to think of self-promotional content (i.e., your next marketing preview event, a statistic about your school's college acceptance rate, school growth, class size, etc..)  But your social media system must include educational and informational content that will resonate with prospective families.
The 3 most common places where you can receive inspiration for your high-value blog content are:
ONLINE RESOURCES – as seen in the image above, the NAIS website has a parent section (click "Parents" at the top as indicated in the photo).  You'll find a number of articles that are talking about issues NAIS has deemed important to prospective independent school parents.  These are likely YOUR prospective parents as well.  Get clues from these articles to craft your own articles, or simply link to articles on sites like NAIS to provide high-value content to your families.  You can also get content ideas from other parent forums at Private School Review or GreatSchools (look for their "Hot Topics" forum) and even the educational areas of national news sites like CNN or FoxNews.
ADMISSION Q&A – think through the 5 most common questions prospective families ask about your school during your preview events or school tours.  These are excellent starting places for blog content.  While a blog post answering questions about your school's tuition rates may not sound very riveting, it could give you a foundation for talking about the VALUE your school offers a prospective family, a discussion of financial aid solutions, or an opportunity to highlight current families who have made the sacrifice to afford your school.  When one prospective family watches a compelling 5 min video blog from one of your current families, there is an opportunity to move past the dilemma of "how could we ever?" to a more positive "we can do this!"  attitude about enrolling in your school.
CONVERSATIONS EVERYWHERE – asking questions on your school's Facebook page can extend the opportunity for your prospective families to understanding more about the spiritual, academic or character-building advantages that your school offers.  Ask prospective families to submit questions via Facebook or Twitter and then answer them on your blog.  Every member of the marketing/communication/admission team and parent organization should start keeping a record of FAQs they get asked at church, at the little league game, or while sitting across from their friends at the coffee shop.  These questions, concerns and curiosities of prospective families are your basis for every educational blog post you write.
*UPDATE* – If it can be of some help, I've recently a "Parent Articles" board on Pinterest to help you have a go-to resource for relevant articles that you can tweet out or include in your email or Facebook updates.
Buffer