For those interested in understanding the best use of QR (quick response) codes for your school marketing, here are a few good articles I have bookmarked on the subject:
QR codes offer a wide range of possibilities, for example:
drive your user to a video on your Vimeo or YouTube channel – great for when your Open House night doesn't permit time to visit every department,
entice users to coupons for your school spirit store or offer them a coupon for reduced application fees (use in conjunction with a hard deadline – the urgency will have them act before the offer expires),
encourage users to download a PDF of an article such as "The Story of 2 Families Who Thought It Was Crazy to Spend $$$$ On Private Education for Their Elementary Kids but Now Can't Imagine They Would Go Anywhere Else" – don't you love the long title!
turn that stale advertisement (direct mail, magazine) into a dynamic communication tool – compelling a viewer to want to know what's behind the code, thus acting as a positive

call-to-action

.
However here are 5 basic guidelines to ensure that your QR code doesn't fail:
Make sure the final code is at least 1″ x 1″ – any smaller and readers may not be able to read it.

Don't settle on pulling a QR code off your website and using it in print.  The web version will be a lower resolution image (fuzzy/pixelated) and may not scan well.

Avoid, when possible, just having your code go to your website.  Anybody can type in your URL.  Look for something more interactive, or even something unique that is only accessible via the QR code (maybe a private link on your site).

Sometimes I use them alongside a shortened URL – that way it doesn't exclude folks who don't have the appropriate device but can write down or remember a simple URL.

Don't be boring all the time –

have some fun with creative QR codes.
I saw error #3 in a recent edition of a local parent magazine with a special focus on private schools (are you tired of these "special editions" yet?  One communications person told me once that, while they didn't really feel they needed to be in there, "they couldn't afford NOT to be."  Yuk.)  Anyway, there were two schools using QR codes (kudos to that duo who were the only ones using them).
School #1's QR code went to their website. Wow, big deal.  There wasn't anything special to see.  Yes, it made it easy for me (perhaps easier than typing in the URL on my iPhone browser), but still, there was no call-to-action or anything that made me want to go further.
CLICK TO VIEW LARGER IMAGE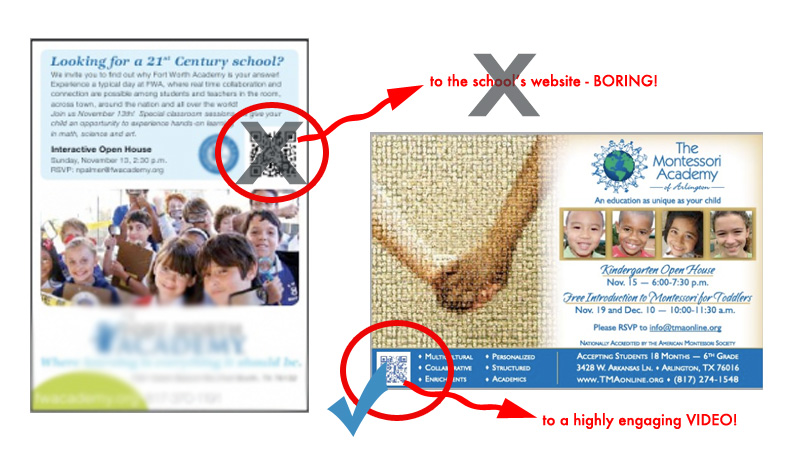 School #2's QR code immediately grabbed my attention!  When I clicked the QR code for The Montessori Academy, I ended up the highly engaging video you'll see below (find out more about getting a telestration for your school at 321fastdraw.com)
QR codes are great tools of social interaction and can be effective in dynamically engaging with your prospective families.  They can also be used internally around campus.  They are designed to take the stale piece of marketing collateral and making it come to life!
Speaking of QR codes – check out this one of our own!

.
.
.
.
.
.
.
.
.
Buffer